Alleghany Highland's Red Lantern Inn earns TripAdvisors certificate of excellence.  JoAnn Carter Henson, owner of The Red Lantern Inn shares thanks for the past six years of the Inn being open and excitement for the future.  Enjoy words from the regions favorite Innkeeper and recent TripAdvisor reviews from visitors.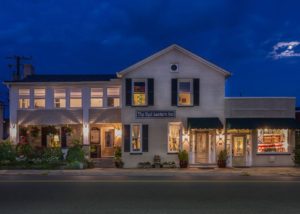 Six years ago the owner of  The Red Lantern Inn was excited to open and she is just as motivated with more excitement today.  JoAnn Carter Henson owner of The Red Lantern shares, "Six years ago, the adventure of Innkeeping began. The Red Lantern Inn would have never been possible without the support of my family, the encouragement from my friends and help from Karen Buzzard and Ester Linkswiler.
The Red Lantern Inn is a 100 year old building in downtown Clifton Forge that has been totally renovated into casual overnight accommodation. In addition to the 7 bedrooms and 4 1/2 baths, guests will share several common areas – living room with cable TV, fully stocked kitchen with coffee available and laundry facilities.
The Inn can be reserved by individual rooms, suite of two rooms or the entire Inn.  Special prices are offered for reservations of more than two rooms and for the entire building. The Red Lantern Inn is a great place for family reunions, class reunions, wedding parties and guests.
In a recent Red Lantern Inn Facebook post, July 18, 2016, Owner, JoAnn Carter Henson humbly gives thanks to friends, family and community.  Jo Ann shares that her mama was her biggest advertiser, " by telling all her friends about my plans and I know she was proud of me and what I accomplished. The year after I opened, I received a very special gift from a long time friend, Ann Sheets Tinsley. Bella (Snowy), my beautiful white bulldog, quickly became my constant companion and the Inn mascot. I appreciate everyone who has recommended The Inn to family and friends and am glad to have been able to offer a place where people can "come home" again. The Inn has also had a lot of support from the town of Clifton Forge and other business and organizations in town who have recommended the Inn to people passing through.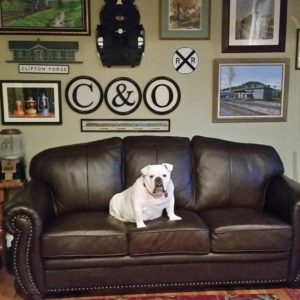 Many wonderful memories in only six year's have been made at the Inn and many more are to be made in the future.  JoAnn shares, "I love that Chris Gideons & Valli Vida Gideons and Adam Gideons & Kerri S Gideons brought my grandchildren and spent Mother's Day weekend with me at The Inn in 2012. Having family, friends and guests reserved the whole Inn for their special occasions and reunions has been a blessing for me and for them. One of the most rewarding parts of being an Innkeeper has been meeting the guests many of whom have become friends because of their frequent visits. They say it's like being at home when they visit which is exactly what I want for every guest! I have said many times "I will never make a million dollars running an Inn but I will make a million friends". As I move forward into the coming year, I am grateful for the support of my husband, Mike Henson, who adapted to my Innkeeping life style and ran the Inn for me while I spent the last months with mama. While I won't be as involved in the day to day operations, I am pleased to have Donna Bowling running The Inn for me so I can spend more time with my husband and visiting my children and grandchildren Chris in California, Adam in Kansas – soon to be Colorado, and Erinn in Germany.  I never dreamed that I would ever begin a new life in my 60's but the changes have been wonderful!  Thank you all from the bottom of my heart for making my dream a reality!
MsC8108
The Red Lantern Inn is a lovely Inn that is surrounded by mountains and hills. The Inn is very clean and tastefully decorated. Amenities are provided in the bathroom just in case you forgot something. shampoo, shower gel, and soaps are delicately scented. The bed was comfortable and the rooms are air conditioned. The towels are plush. Some rooms have a private bathroom and others have a shared bathroom. The rooms are equipped with a USB port and available WiFi. The bed was comfortable and air-conditioned continental breakfast is provided which consists of an assortment of bagels, muffins, toast, pastries, cereal, milk and yogurt. An assortment of fruits , coffee and tea is also available. Donna is friendly and will give you the grand tour of the Inn. If she is not busy, she will sit and talk with you. My cousin and I stayed one night at the Inn. Clifton Forge is very quaint and the people are polite and friendly. A must see is the Falling Spring Waterfall. Don't forget to take your camera because the waterfall is unbelievable and breathtaking even from the road.
BrennySanag
"Location location location"
Been several years for the Christmas open homes. Always love sitting outside on the upper porch that is heated. Yes 3 rooms upstairs share a bathroom but never noticed a problem. There is one room upstairs that has its own bathroom. A bedroom downstairs that has a bathroom that other guests could use…again never seemed to b a problem! Beds are comfortable, plenty of towels. Coffee muffins fruit in morning (fresh). U have full use of a full kitchen if u wanted to make/bring a meal. Walking distance to town. Heading down again soon!
Sons3x
"Love The Red Lantern Inn!!!!"
We just had the most wonderful and welcoming experience at The Red Lantern Inn! We had 6 adults and two small children in our group. Staying here was just like being in your own home but even better in this beautifully renovated 100 year old building. There was plenty of room to stretch out and relax when we had time to. There were lots of choices for breakfast, very comfy beds and towels, and exceptional owners and staff that made sure that our stay was nothing short of perfect. Really wish there were more "Red Lantern Inns" to vacation in!
Visit The Red Lantern online:  http://www.theredlanterninn.com/
Reminder from the Inn, reservations are required so you will need to contact us in one of the following ways: "Make a Reservation".  In addition, you can send us a message or you can call 540-797-5000 or 540-797-2027.
The Red Lantern Inn
314 Jefferson Ave. Clifton Forge, VA 24422