'A Gift & Garden Market' Saturday May 5, 2018 10 AM to 5 PM and Sunday May 6, 2018 11 AM to 4 PM.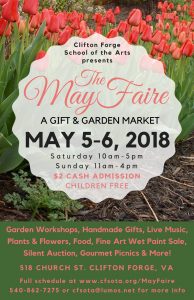 The MayFaire
Brought to you by the people who offer our region's popular Kriskindlmarkt, Clifton Forge School of the Arts is transforming its fabulous Mill, garden, and the banks of Smith Creek for The MayFaire, a celebration of Spring and the Arts, to give visitors an opportunity to purchase plants of all kinds (bedding, perennials, hanging, and unique), and quality, handmade gifts by 35+ talented artisans for the home, garden, gardener, and Mother's Day. Workshops on Fairy Gardens, Herb Gardens, and Mosaic Glass Stepping Stones.
CFSOTA will have several vendors with fairy garden wares and we may have a visit from Mother Nature (the real person, not the one who has been messing with the weather!) Outstanding Raffle and Silent Auctions sure to please Mom, and because nothing is more wonderful than a delicious picnic on a beautiful Sunday afternoon, we are holding an exciting Silent Auction of Gourmet Picnics made by area chefs to benefit Lisa's Kitchen, a local community service program.  Picnic bidding begins Saturday morning and ends Sunday at 12:30, at which time picnicking will commence in our cafe, near the Creek, or in our beautiful garden. 
Delicious catered spring menu for dine-in or take-out dining throughout the weekend including hot entrees and boxed lunches by Full Circle Catering.  Enjoy chicken salad, pork BBQ, roasted pork tenderloin with sweet potato biscuits, caprese and other kinds of salads, fresh roasted/candied nuts, fresh cinnamon rolls, maple baked goods, and delicious desserts like strawberry shortcake and triple chocolate brownies. 
See area artists painting and drawing in our garden and throughout the region and purchase their work at the 'Wet Paint Sale' at 4:00 p.m. Saturday. Enjoy performances by several groups affiliated with the School of the Arts:  our Brass Ensemble, the Alleghany Mountain String Project students, and Greg Burns of Metta Vibrations. $2 Cash Admission, children free.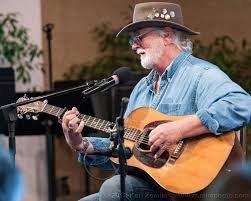 On Saturday evening, May 5, join us for singer/songwriter Bill Staines, performing in the School's Gallery at 7:00 p.m. Beer, wine, beverages and snacks will be sold. This concert is sponsored by Highlands Community Bank. Tickets available online or at the door.
The MayFaire is presented in partnership with Country Garden Florist and is a fundraiser for Clifton Forge School of the Arts, the community art school of the Alleghany Highlands, a 501(c)(3) nonprofit organization.
WE LOOK FORWARD TO A WONDERFUL CELEBRATION OF SPRING, MOTHERS, GARDENS, AND THE ARTS!K