Fourth of July 'Stars & Stripes' celebration, Jack Mason's Tavern & Brewery, Historic Masonic Theatre, The Farm at Glen Haven, Arts & Entertainment abound in Clifton Forge, VA.
CFVA would like to share some of the towns upcoming summer fun and a message from Katy Atherholt of the renowned 'Jack Mason's Tavern and Brewery'.  JMT has much to offer this summer, social media information, brewery tasting room news and more.
It's heating up in CFVA as we turn the corner towards summertime. We have more going on than ever before and there's certainly something for visitors and locals of all ages and interests to enjoy.  First up, let's take a look at our Alleghany Highland 'Stars & Stripes' small town USA celebration.
On July 4th the celebration begins with a downtown parade at 11 am through our historic district. We urge you to come out and enjoy the parade or even be in it.  Come enjoy, wear your red, white and blue.   At the conclusion of the parade everyone is invited to gather at the Town Hall steps for a special ceremony honoring our Veterans.
Following a reading of excerpts from the Declaration of Independence at the Town Hall steps we encourage you to follow our bagpipers on a short walk to the Masonic Amphitheatre for an afternoon concert and a picnic lunch.
At 6 PM, the grounds of the C & O Heritage Center open to the public, free of charge, for an evening of informal fun, food and festivities. Live music with the 'Henry Downing Band' followed by the 50 member Celebration Chorale presenting a Patriotic Cantata. This outstanding presentation will include a Retreat of the Colors. The miniature train at the Heritage Center will also be available to ride, for a small fee. An awesome fireworks display will take place at dusk to close out the day-long celebration.  Come celebrate our Nations 242nd birthday.
https://www.facebook.com/145314788844274/videos/1998165320225869/
Katy Atherholt has updates and summer news from the Tavern.  Atherholt shares, "Throughout June and July there is live music at Jack Mason's Brewery, as well as, Tavern Trivia.  A brand new Tavern Trivia event hosted by the Allegheny Highlands Young Professionals Group.   The first 'Tavern Trivia' event took place on Thursday, June 21st in the Jack Mason's Brewery tasting room. We were drinking locally brewed beers and testing our knowledge of pop culture with Harry Potter, Friends, Star Wars and The Office trivia.."  Stay tuned for the next AHYP group gathering at the Brewery.
"The AHYP Group is a social group for young professionals (21-40) in the Allegheny Highlands region. Each month the group hosts a different event to connect young people and build community in the area. In the past they've hosted kickball, beer tasting and a variety of other events to help showcase small businesses in the area. The group also posts events happening in the area on the AHYP Group Facebook page to help young professionals support each other and the causes they care about."
Atherholt reminds us that JMT has been Brewing for the past year, "Jack Mason's Brewing is coming up on their one year anniversary with some exciting events and community collaborations this summer. The brewery tasting room is open all summer on Friday (4pm to 8pm), Saturday (4pm to 8pm) and Sunday (12 noon to 4pm). We encourage everyone to head in and try the new specialty beer, the Charming Southern Blonde Ale, a light and fruit summer ale."
JMT invites you to follow them on Facebook and Instagram, "Connect with us on social media to stay up to date on events, live music and the Brewery"
Jack Mason's Tavern Instagram
Jack mason's Tavern Facebook
More Entertainment and happenings after the 4th of July in CFVA.  Next up is a Fundraiser for The Historic Masonic Theatre.
Steal the Pint Night
At Jack mason's Tavern
Saturday, July 7 from 5pm to 7pm.
JMT Brewery has created a special beer in honor of The Historic Masonic Theatre's 113th birthday (July is the Theatre's birthday month). The beer is called CURTAIN CALL SUMMER ALE.
While it lasts, a percentage of all sales of this original brew will be donated to the theatre.
The Theatre is celebrating its birthday with a STEAL THE PINT Night. On July 7, starting at 5pm, when you buy a CURTAIN CALL SUMMER ALE, it will be served in a pint glass featuring the beer's logo. Once you finish the beer, you take the glass home with you (aka: 'Steal the Pint').
Glass supplies are limited, so be sure to get in early on July 7 to claim yours. Once they're gone, they're gone. Limit one glass per person.
July 7th is the date for you to enjoy a CURTAIN CALL (or two) of your own.
See you there.
Saturday, July 7th, 2018 – 8:00 pm
Historic Masonic Theatre and Masonic Amphitheatre
510 Main Street
Clifton Forge, VA  24422 Map
The Virginia Opry: Celebrate America
featuring The Darrell Webb Band
Saturday, July 7 at 8pm
In the John E. Hillert Auditorium
General Admission: $10 in advance; $12 at the door
The Darrell Webb Band has been hailed in bluegrass circles as having "the perfect blend of traditional and innovation." Webb celebrated his 20th year in the music industry with the release of "Dream Big" on Mountain Fever Records.
After performing as a vocalist and multi-instrument artist with Ronda Vincent and the Rage, Wildfire, and Michael Cleveland and Flame Keeper, Webb formed his own band in 2009. He promptly released "Bloodline" and followed up with "Breaking Down Barriers."
Webb is noted for his rich vocals, and the band performs acoustic music that critics have hailed as "electrifying energy beyond traditional boundaries." Recently, Webb has been featured with Vincent, his long-time friend, on "More."
"Flying South to Dixie" topped the chart at #1 on Bluegrass Today, a weekly publication. The song featured members of the Grasscals performing with Webb. The
Darrell Webb Band has received numerous nominations for awards at the International Bluegrass Music Association (IBMA) Awards.
Crossing County Lines, a youth band that is part of the New "Old School" Junior Virginia Opry, will warm up the audience by performing in the Thomas P. Dean/Racey and Dean, Inc. Underground Café at 7:00 p.m. Both The Virginia Opry and the New "Old School" Junior Virginia Opry country music shows are produced by Appalfolks of America, a non-profit organization based in the theatre.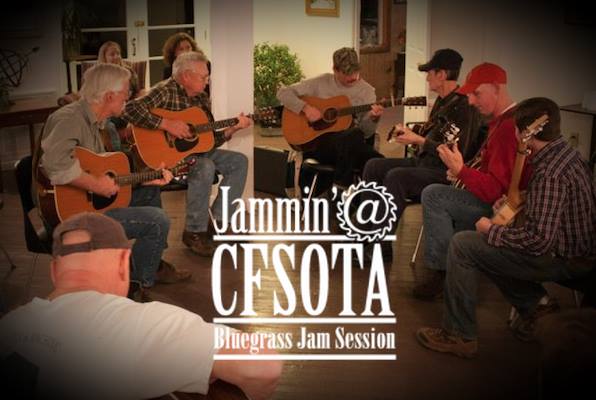 Bluegrass Jam, Clifton Forge, VA
Friday, July 20th, 2018 – 7:00 pm +10
Clifton Forge School of the Arts
518 Church St
Clifton Forge, VA  24422 Map
Bluegrass Jam – 3rd Friday of EVERY month! 7 pm. No charge.
Bring an instrument & your voice; or, come listen & toe-tap along with local bluegrass players. Coffee provided. In THE GALLERY at Clifton Forge School of the Arts, 518 Church St., Clifton Forge, VA.​​ Donations to the School, a non-profit 501(c)(3), are more than welcome! Questions, call the School 540-862-7275
Junior Sisk & Ramblers Choice
The Farm at Glen Haven
Friday July 20. 2018 7PM
Get ready to fuel up this summer on some industrial-strength bluegrass!! While Junior Sisk will continue touring, this will be THE LAST YEAR that you will be able to catch Junior with the Ramblers Choice! Tickets are limited- so get em' early!
Michael Hoover: Memories of Elvis 2018
Saturday, August 4th, 2018 – 8:00 pm
Historic Masonic Theatre and Masonic Amphitheatre
510 Main Street
Clifton Forge, VA  24422 Map
Michael Hoover: Memories of Elvis
Saturday, August 4, 2018, at 8pm
In the John E. Hillert Auditorium
Advance tickets: $12/15/20 Boxes $25 ($2 more on the day of the show)
Appalfolks presents Michael Hoover's Memories of Elvis show annually.
"Memories of Elvis," a tribute to the King of rock 'n' roll, will be performed by Michael Hoover, winner of the international Elvis tribute artist's competition in Memphis where he triumphed over 95 competitors to be declared the best Elvis tribute artist in the world. Michael and his band, Sweetwater, will perform songs that Elvis made famous.
Michael has been a featured performer with The Jordanaires, Sylvia, Reba McEntire, John Conlee, Johnny Lee and Charlie Daniels, and he has appeared on stage as the opening act for Diamond Rio at Bally's Ocean Downs, Queen City, Maryland.
Charlie Hodge, Elvis' close friend, praised Michael's "Memories of Elvis" by proclaiming, "One of the best tributes that I have seen. He is sincere, and it shows in his work."
Keep up with all of CFVA happenings, events, arts & entertainment.  Follow Visit Clifton Forge VA  on Facebook and download our mobile web app.
The Town of Clifton Forge, VA is nestled in the George Washington National Forest with majestic mountains, pristine rivers and streams.
Visiting Clifton Forge is easy with Interstate 64 exits at each end of town. AMTRAK provides connections to D.C., Chicago & New York. At the west end of Town is Dabney S. Lancaster Community College and on the east end scenic Douthat State Park.
Enjoy downtown shopping, one of many eateries and take in the C&O Railway Heritage Center. You will love the small town feel, friendly citizenry and strolling the community and The Historic District.
The Alleghany Highlands Arts and Crafts Center, newly renovated Historic Masonic Theatre and Masonic Amphitheatre, and Clifton Forge School of the Arts offer classes, exhibits, live music, dance, movies, theatre and festivals.
We invite you to visit. You may just decide to live here in CFVA.