This wonderful time of the year is celebrated with much cheer here in the town of Clifton Forge, VA and the Alleghany Highlands.  To start the holiday season folks near and far came to visit downtown and enjoy the 6th Annual Clifton Forge School of the Arts Kristkindlmarkt in the Mill.  Historic downtown was filled with smiling faces and joy during this year's Clifton Forge Main Street Christmas Parade.  This past weekend hundreds came out for the Holiday Classic, THE NUTCRACKER with Two Shows Danced by Members of Shenandoah Ballet and Local Dancers.
What Jingle Bell Joy is On The Horizon At The Historic Masonic Theatre downtown CFVA?
Live From the Underground Lounge & Cafe, Open Mic Night,
Thursday, December 14, 7:00pm
Musical Host, Dana Hartless 

You never know what you'll hear at the open mic, but it is sure to be fun! If you'd like to perform, please arrive a little early and sign up for your time slot.
So come join us 

December 14th

, grab your favorite drink in the Underground Café, sit back and enjoy.
Free. Donations appreciated.
The Original Rhondels, A Rhondels Christmas,
Saturday, December 16 at 7:30 pm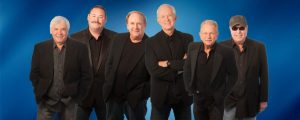 Get ready for a rockin' Christmas season treat! The Original Rhondels are a music tradition who have performed their hit recordings in almost every major city in the United States. In 1969, Bill Deal and the Rhondels began a recording career that would take them across the country. With 3 top 10 hits, "May I", "I've Been Hurt", and "What Kind of Fool Do You Think I Am", the band hit the road, delighting their audiences with outstanding vocals, powerful brass, and exciting showmanship.
In the John E. Hillert Auditorium
Saturday, December 16 at 7:30 pm
Tickets: Main Orch: $25; Rear Orch/Front Balc: $20
Rear Balc: $15; Boxes: $35
Appalfolks STARS Christmas Concert,
Sunday, December 17, 3:00 pm  

In the John E. Hillert Auditorium, 
Sunday, December 17 at 3:00 pm
Advanced Tickets: Orch. $10; Balc. $6
At The Door: Orch. $12; Balc. $8
The Sway Katz Holiday Swing Concert, 

Friday

,
December 22, 7:30pm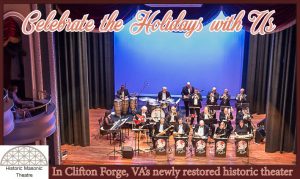 'The Katz' shift easily between your favorites from Frank Sinatra, Peggy Lee, Ella Fitzgerald, and Count Basie to contemporary artists like Michael Buble, Natalie Cole, Bette Midler, and Brian Setzer. Sway Katz are renowned for their tight ensemble work, audacious sense of swing and inspired solos. Join us for this big band holiday party!
In the John E. Hillert Auditorium
Friday, December 22 at 7:30 pm
Tickets: Main Orch: $20; Rear Orch/Front Balc: $18
Rear Balc: $12; Boxes: $30
Make time this holiday season to enjoy downtown CFVA and the newly restored historic theatre.Visiting Clifton Forge is easy with Interstate 64 exits at each end of town. AMTRAC provides connections to D.C., Chicago & New York. At the west end of Town is Dabney S. Lancaster Community College and on the east end scenic Douthat State Park.
Arts & Entertainment abound in our community. The Alleghany Highlands Arts & Craft Center, newly renovated Historic Masonic Theatre & Amphitheatre, and Clifton Forge School of the Arts offer classes, exhibits, live music, dance, movies, theatre and festivals.
Stay connected http://visitcliftonforgeva.com/events/
Enjoy downtown shopping, eateries and take in the C&O Railway Heritage Center. You will love the small town feel, friendly citizenry and strolling the The Historic District.
We invite you to visit. You may just decide to live here in CFVA.
Like Visit Clifton Forge VA's Facebook page:https://www.facebook.com/VisitCliftonForgeVA/
Be safe and enjoy.