June 13, 2019 Downtown Market Weekly Feature: Greg Burns and his sound healing work with Metta Vibrations.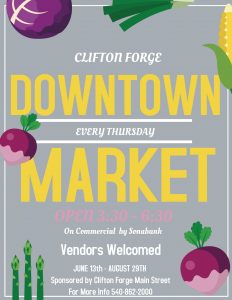 Message from Clifton Forge Main Street's Downtown Market
"We are excited for the 2019 season of the Clifton Forge Downtown Market. One thing we'll be incorporating is our weekly feature of having some special guests, demonstrations and entertainment throughout the season.
Our first week  feature will be Greg Burns and his sound healing work with Metta Vibrations. While you may also find Greg selling his homegrown herbs and veggies, his primary work is doing what is called Sound Healing. This is a wellness practice where certain instruments are used, in this case Tibetan Singing Bowls and Symphonic Gong primarily, to provide an experience to aid the individual in a wide variety of ways.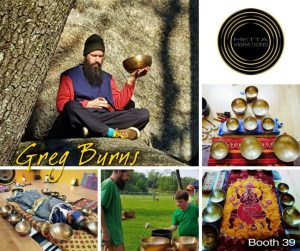 Often reported feedback is that one of these sound sessions can help relax the mind and body, relieve pain and stress, induce meditative states, improve sleep, and more. Greg lives here in Clifton Forge and offers classes at Clifton Forge School of the Arts and regularly hosts Community Drum Circles at the Historic Masonic Theatre, along with sharing the sound work throughout the region. Greg will have a table setup with information along with some singing bowls and instruments with him so you can experience what it's all about first hand.
The 2019 market will take place on Thursdays from 3:30-6:30pm, starting June 13th to August 29th on Commercial Ave between Ace Hardware and Sona Bank.
Come learn more and pick up some homegrown and handmade goodies too."
We are excited that the 2019 Market season is fast approaching. We still have room for more vendors, so don't hesitate to join market if interested.
Clifton Forge Downtown Market hosted by Clifton Forge Main Street, Inc. a non-profit organization working to improve the historic downtown of Clifton Forge for economic and cultural reasons.  CFMS is affiliated with the Virginia Main Street Program, a division of the Virginia Department of Housing and Community Development.
 #visitCFVA