Fall is one of the most beautiful times of year in Virginia, and traveling throughout the state during this season can reveal an abundance of color.  October heralds the magnificent beauty of the Alleghany Highlands forest and mountains. We welcome you to scenic, busy and friendly Clifton Forge, Virginia to view the splendor of Autumn foliage. Browse through the many exhibits and shows in downtown Clifton Forge during Fall Festival 2017 (OCT  20 – 22) sponsored by the Clifton Forge Shrine Club.  
We invite you to Visit CFVA anytime of the year. Enjoy historic downtown, hike or bike one of our local trails, enjoy arts & entertainment at the Historic Masonic Theatre Complex,  browse an artisan exhibit at The Alleghany Highlands Arts & Crafts Center or The Clifton Forge School of the Arts.  Train, railroad and history lovers can visit the C&O Railway Heritage Center. located in the heart of downtown.
Shop downtown at Livy's Closet or one of the antiques stores.  A must visit while in the area is Alleghany's renown Jack Mason's Tavern.  JMT's owners, Martha Atherholt and Wendy Hudler did not just design their tavern as a restaurant, but also as a fun gathering place for friends and family of all ages.  JMT has a game room featuring pool tables, video games and pinball, as well as 6 large TV's and a state of the art sound system.  Martha and Wendy have announced the opening of Jack Mason's Brewery this November.  We know right? This is very exciting!

In addition to JMT, CFVA offers an array of eateries to include; The Club Car Shop and Deli, Bella's Pizza & Subs,  42 Deli, open in the morning is the Tiny Italian Bakery and a staple downtown is fine dining at 'Cafe Michel'.  At near by Low Moor you will be served a delicious meal at The Cat and Owl Steak & Seafood House.
So, you're interested in seeing the beauty of Virginia during Fall Foliage season? But you don't want to fight the traffic of the best-known places, such as Skyline Drive?
Well, you've come to the right place, Clifton Forge, VA.
As we move into October, mostly-green trees are glowing with yellow undertones or blushing with pink ones.  So far, the effects of extended dry weather have led to dull golds with a few patches of red.  Higher mountain areas  are showing more reds, from dogwood, sourwood, black gum, and some maples.  Mountain color varies greatly, depending on elevation, recent moisture levels, and the direction a slope faces.  Drive around the areas above 3000 feet to encounter a few spots with 50% color change.
Let the Virginia Department of Forestry keep you up to date with Weekly Fall Foliage Reports.
The edges of roadways are some of the best viewing spots for fall color.  Hiking one of CFVA's community trails or visiting near by Douthat State Park will allow you get a close up view.  Sumac, which goes unnoticed  for much of the year, is striking with its glowing red leaves and deep red fruit clusters.  Virginia creeper and poison ivy vines add touches of red to scattered tree trunks.  Roadside wildflowers are still dominated by shades of yellow and gold, complemented by purple asters.
As you enjoy the outdoors and Virginia's forests, remember to be careful with outdoor fire. A cigarette, campfire or cooking equipment can destroy the scenic wonders of Fall in Virginia.
Browse below October happenings at the Historic Masonic Theatre   
Underground Lounge & Cafe
Opens for Performances!
The Woodshedders performed in the Masonic Theatre's Underground Lounge& Cafe to a packed audience–and to think, back in the day this space was a furniture warehouse!!! Today, a repurposed marvel! Join us on Thursday, October 12 at 7:00 for the first Open Mic Night in the Underground with host,Nickie Calhoun!
Nickie Calhoun is a singer, songwriter who grew up in the Eagle Rock/Clifton Forge area.
Nickie has performed in several groups and on numerous stages,most recently she
appeared on the main stage at FloydFest.
Free admission, Donations appreciated.
Come early and bring your music if you want to perform.
Keith Bryant in Concert, Saturday, October 14, 7:30pm
John E Hillert Auditorium

Keith Bryant was born in the Alleghany Highlands. In his career, he has released four
independent studio albums,including one on Lofton Creek Records. He charted for the
first time in 2004 with the single "Riding' with the Legend",which Bryant co-wrote as a
tribute to former NASCAR driver Dale Earnhardt, who died in 2001. Keith's fourth album,
Live It Slow, followed in 2007 and produced five singles.
Tickets: Main Orch: $20; Rear Orch/Front Balc: $18;
Rear Balc: $12; Boxes: $30   –   Purchase Tickets Keith Bryant Show

Friday, October 13, 8:00 pm
Something Wicked Movie Event 
The twisted minds behind our very own Something Wicked Haunted House are at it again!
Time to get primed for Halloween with this horror classic. Come in costume, prizes will be awarded. Enjoy a splattering good time.
One of the longest-running horror film series began with this gory shocker from director Sean S. Cunningham.
Free Admission, Donations Appreciated
Young Frankenstein Movie Screening,Thurs, Oct. 19, 7:00pm 
From the mind of Mel Brooks, it's a night of 'Abby Normal' fun!
Frederick Frankenstein detests his family history but ultimately can't resist the
temptation to follow in his infamous grandfather's footsteps.
Made with obvious affection for the original, Young Frankenstein is a riotously silly
spoof featuring a fantastic performance by Gene Wilder.
In the John E. Hillert Auditorium
Free Admission. Donations appreciated.
CFVA FALL FESTIVAL downtown October 20 -22
Enjoy a fun and interactive 45-minute tour while learning about our lovingly renovated Theatre, all as you enjoy the Fall Foliage Festival, October 20-22, 2017! Several tours offered each day of the festival and all tours are free. Please meet in the lobby of the theatre at least 5 minutes before each tour. This is a walking tour, an elevator is available for use. In the Historic Masonic Theatre 
Friday, October 20 at 1:00 pm; 3:00 pm
Saturday, October 21 at 10:00 am; 12:00 pm; 2:00 pm
Admission is free. Donations appreciated!
The Guthrie Brothers: Everything Everly, A Tribute to the Everly Brothers, Friday, October 20, 7:30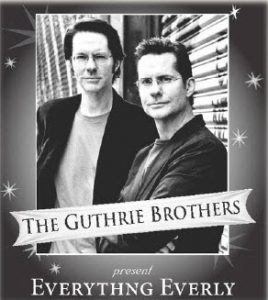 The Guthrie Brothers bring their extraordinary talent and playful stage presence back to
The Historic Masonic Theatre for a night of The Everly Brothers music,Simon & Garfunkel tunes
and more. After a busy day enjoying Fall Festival, take a load off and join us for this
unforgettable evening of music and story.
In the John E. Hillert Auditorium
Tickets: Main Orch: $20; Rear Orch/Front Balc: $18;
Rear Balc: $15; Boxes: $30
Purchase tickets Everything Everly
The Announcers Fall Festival Concert, Sat., October 21, 7:00 pm
Known for their tight harmonies and meaningful performances, The Announcers have been lifting hearts and serving the community for over 40 years. Seeing an Announcers show is like coming home, all are welcome. Please join us.
In the John E. Hillert Auditorium
Free. Donations in support of
Fall Foliage Festival appreciated.
Fall Camping in Virginia at it's best!
 DOUTHAT STATE PARK –
Nearest Town: Clifton Forge  Fall Color Peak: Late October to early November
What You Need to Know: The park is known for its waterfalls and overlooks
GPS Coordinates: 37.89676, -79.80226
One of Virginia's 6 original state parks, with a rustic touch added by the Civilian Conservation Corps developed the campground in the 1930s, Douthat State Park is a flawless fall destination, and recognized as a National Historic District. Hikers, mountain bikers and equestrians can enjoy the trails that lead along the park lake, to waterfalls and overlooks, where you can gaze upon fall's paintbrush sweeping over the mountains. Rent a boat and explore the lake.
The camping here is fine and varied. You can choose to overnight at primitive sites overlooking the park lake, though it does have a bathhouse, or water and electric sites at the White Oak and Whispering Pines campgrounds. There's even an equestrian campground! Dine in the park restaurant – it also overlooks the lake, where bright trees will reflect off the water.
Recommended Fall Color Walk: It is a haul, but you owe it to yourself to head up to Lookout Rock then Tuscarora Overlook for autumn admiration. Pass Blue Suck Falls on the way, though in autumn it won't be flowing much. At Tuscarora Overlook find a grassy clearing and a restored CCC fire-watching cabin, with the park's most beautiful vista. Gaze west into Wilson Creek and across to Beards Mountain in the east.
Lodging downtown CFVA
TRIP ADVISORS CERTIFICATE OF EXCELLENCE has been awarded to CFVA's 'THE RED LANTERN INN'.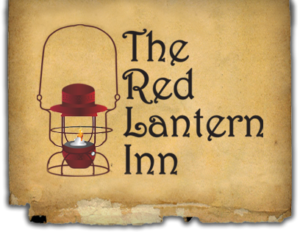 Book your room at The Red Lantern Inn  300-360 Jefferson Avenue, Clifton Forge, VA 24422
The Red Lantern Inn is a 100 year old building in downtown Clifton Forge that has been totally renovated into casual overnight accommodation. In addition to the 7 bedrooms and 4 1/2 baths, guests will share several common areas – living room with cable TV, fully stocked kitchen with coffee available, laundry facilities, glassed in year round porch and a media room with big screen cable TV and WiFi. Guests like the openness and "homey" atmosphere.
Browse all the lodging opportunities in CFVA.
As Autumn rolls in it is the idea time to getaway and visit Clifton Forge, VA.  Visiting CFVA is easy with Interstate 64 exits at each end of town. AMTRAK provides connections to D.C., Chicago & New York. At the west end of Town is Dabney S. Lancaster Community College and on the east end scenic Douthat State Park.  We invite you to visit this season or any season.  Keep up with the Festivals, Arts, Entertainment and happenings here in CFVA.  
Like us on Facebook download our Mobile Site to your device and share with friends.